Intro / The Story
Decoder, an underground film from the early 80's has developed to a somehow prophetic cult movie. With an unique engagement of exceptional players, who for the most part play themselves (FM Einheit of Einstürzende Neubauten, the true Christiane F. of the infamous Bahnhof Zoo, Genesis P-Orridge of Psychic TV and the American writer William S. Burroughs) and extraordinary music of the time, such as Soft Cell, Einstürzende Neubauten, The The, the film dramatizes the transcending innovation which punk brought to the fields of communication, like a perfect precursor for the cyberpunk genre.
Muzak, the artificial music product created by scientists and marketing experts to increase efficiency and enhance wellbeing, irrigates men everywhere. A young punk and hobby sound mechanic decodes this music and creates an antidote to provoke disturbances not only in the burger joints where he found this music. By recruiting street pirates to spread his twisted sounds via tapes (an idea directly taken from Burroughs' cut up manuals) the tumults turn into violent streetfighting (with real footage from Berlin's infamous Anti Reagan riots). The big corporations can not tolerate this and engage a shady agent to stop the antimuzak movement.
Muzak, by its very nature, has undoubted political significance. With this in mind, the authors of Decoder have achieved a blend of reality and fiction. Surreal, metaphorical imagery interwoven with music, words, and sound effects make this a musical action movie with a very physical impact and an exciting insight view in the subcultural ideas and aesthetics of the early 80's.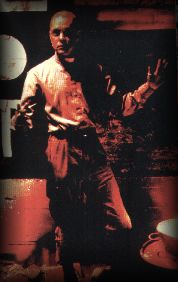 Information is like a bank.
Our job is to rob that bank.
Genesis P-Orridge in decoder, 2nd Act, Scene 12